Spectacle
La Dive Bouteille
Saint-Pierre-des-Corps (37)
21:00 – Centre culturel
Renaissance cabaret inspired by the novel "Vie très horrificque du Grand Gargantua, père de Pantagruel" by Rabelais !
In this programme the musicians of Doulce Mémoire achieve their desire to be musicians, actors and dancers, as in Renaissance times. The audience is treated to a joyous, riotous, inventive non-stop entertainment, presenting the important themes of the Renaissance, as developed in the works of François Rabelais (the expression 'la dive bouteille', which gives the show its name, is a reference to wine).
Performed in costume by a singer, three instrumentalists (who act as well) and an actor, this show presents music that is mentioned in the works of Rabelais – folk music, dance songs and art music. The composers are those of the court of Francis I. All sorts of Renaissance instruments join in the celebration: zither, lute, Renaissance guitar, cittern, recorders, shawms, dulcina, and even a tournebout (a type of crumhorn).
Informations
Cast
Philippe Vallepin, actor
Hugues Primard, tenor
Pascale Boquet, lute, renaissance guitar
Jean-Miguel Aristizabal, spinet
Denis Raisin Dadre, recorders, shawm
Philippe Vallepin, adapt by and stage direction
Olivier Bériot, Séverine Thiébault, costumes
Blandine Ton Van, painted scenery
Denis Raisin Dadre, direction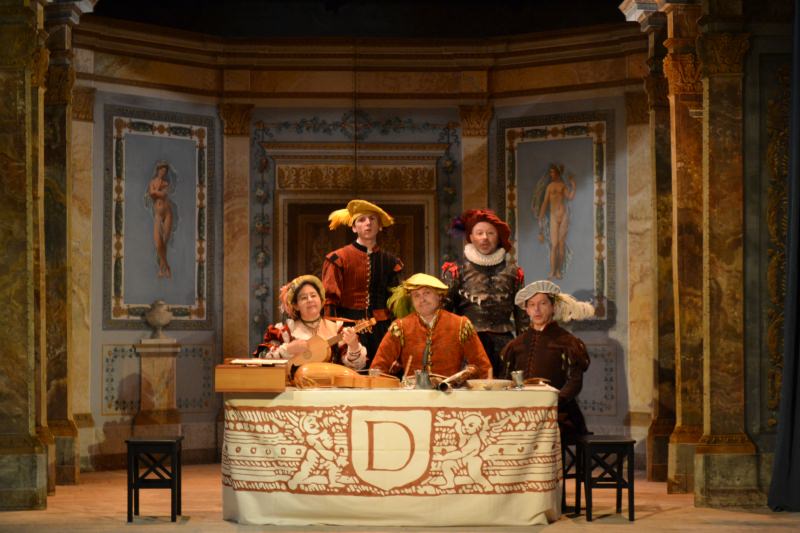 Informations